Member Information 2022
Organized Play
Ladies' Evening
Tuesday  5:30, 9 hole scramble.
Ladies' Day
Thursdays at 9a.m.
Men's Night
Thursday evenings, 5:30
Must be 18 or over to play
Couples' Twilight Golf
Nine holes of scramble golf, every Friday, 5:30p.m.
Being a good golfer is not required! Potluck will be held the last Friday night each month.
Cost: $5/couple ($10 when potluck, for meat).,
NOTICE TO GOLFERS
YOU ARE RESPONSIBLE FOR THE GOLF BALL(S) YOU HIT, including for any damage to property or injury to person caused by your shots. If you hit a ball that strikes property or person you are responsible to directly notify the property owner or person of the incident. If the property owner is not available or cannot be located you are to report the incident to the pro shop where it will be logged of record. Benton Country Club is not responsible for damages or injuries resulting from the golf balls you hit.
If you observe a golfer hit a shot striking property or person, please report the incident to the pro shop at the conclusion of play so it may be logged of record.
Benton Country Club is adjoined by several homes and lawns where persons, including children, are often present. Benton Country Club strongly discourages players intentionally attempting shots which create a heightened and unnecessary risk of the golf ball striking property or person. Such shots include, but are not limited to, #10 approach shot over creek and house to left; #14 tee shot left toward house; #16 tee shot over trees right; #17 approach shot over house.
Husten Lancaster, Superintendent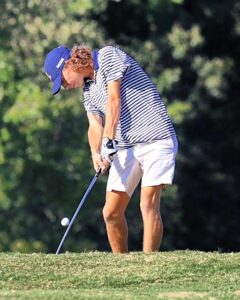 My name is Husten Lancaster, Superintendent here at Benton Golf and Country Club. I could not be more thrilled for the opportunity I have been given here and to get this journey started with my crew! I have been around the game of golf my entire life, loved it since a very young age, and I am extremely compassionate and motivated to start this new chapter in life. We are planning to making some big changes here at Benton Golf and Country Club!